Check out Publish America

www.publishamerica.com
From Yesterday To Love
My new release with Publish America
"My Newest Release"
I received my author copies and I love this book. They did such beautiful cover work. Go to

www.publishamerica.com

, type in the name of my book and away you go.
Wild girl Tonya Sommers at twenty five years of age wanted nothing more from life than to have fun until her latest behavior forced her parents to send her away. It took their drastic action to make her finally grow up. Country boy Charles Avery, after the loss of the one woman he ever loved, swore off love forever until Tonya showed up at his guest lodge. When tall, dark, rugged and sexy Charlie answered the door Tonya felt an instant attraction. Charlie made it perfectly clear he wasn't looking for any relationship, only that didn't stop Tonya. Their friendship formed an instant bond. Join good old country boy Charlie and city girl Tonya on their journey searching for love, as they fight all odds and enjoy the happily ever after they both deserved. Fate brought two young hearts from two different walks of life together. It was meant to be.
My first release with Publish America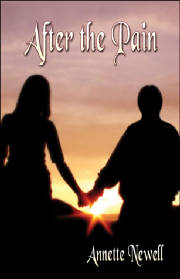 I can't believe it!
After the Pain
Annette Newell
Tired of living the small town life, twenty-five-year-old Ashlee Crawford needed a drastic change. Once dashing and handsome Adam Donaldson joined her class fireworks exploded. Their on-again/off-again romance brought about heartache. Best friends Tamara and wild boy Clay Forrester joined her circle of friends. When dashing and very sexy Todd Lethbridge walked into Ashlee's law office there was something about him that drew Ashlee in. When they went on a date, why was it Adam she thought about? In a mixture of love and chaos the group of friends get over the hurtles that threatened to keep them apart. Love and romance take center stage in a mixture of double weddings and lifelong friendships. What started as a bumpy ride for all the young friends ended with romance ever after. Join Ashlee and Adam on their journeys from heartache to forever love.

If you would like to check out After The Pain on the Publish America website click this link. Just type in the name of my book and it will take you directly to my book. Publish America allows visitors to send free electronic postcards out. I would be ever so grateful if you would send one out to your friends and spread the word. Thanks so much.